FLIRT'S
MASQUERADE HOLIDAY SOIREE
The fun always starts behind closed doors; in the flickers of dim lights, and in the delectable mystery of the unknown. So what better way to celebrate this time of year with a soiree that embodies the sexy, scandalous and taboo?
Boys, get ready to keep your eyes wide shut, because on December 14th, it's Flirt's 7th Annual holiday party – and this year, it's a majestic masquerade*.
So, what do we have in store for all you naughty boys?



Don't forget, it's the season of giving – so we're giving you a chance to give back! This year, we're giving you a complimentary 30-min door fee with your ticket when you bring an unwrapped toy for our Toy Drive!
That's right, bring an unwrapped toy, and with your ticket, we'll give you a free 30-min door fee valid until 01/31/18!
Be sure to join us for a night you won't ever want to forget!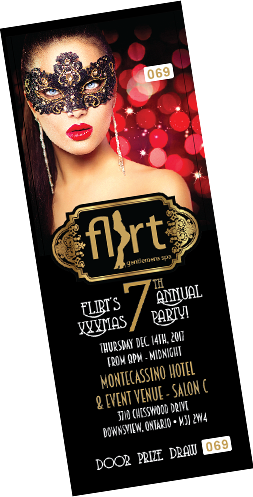 Tickets are $20, and are only available in advance – NO tickets will be sold at the door. Which means one thing, and one thing only: buy your ticket before we sell out!
This exclusive event is subject to capacity – so, if you want to dance and dine with Toronto's finest, be sure to purchase your ticket at either of our locations when you come in for your next seductively steamy session!
For tickets and information, visit both our Finch or Victoria Park locations, or email us at info@flirtspa.ca.
*Masks not required